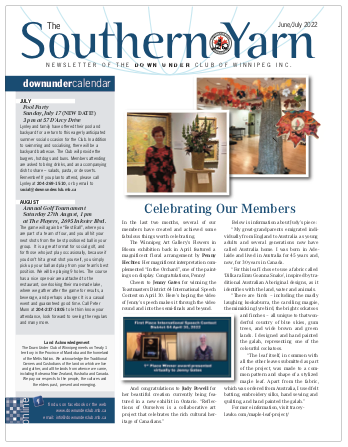 The June July issue of The Southern Yarn is available, online in glorious colour, complete with links to more reading. The cheerful yellow paper version will be making its way to postal recipients in the coming days.
Here's Charlie's Editorial to get you started:
Family issues dictated a hurried decision to visit Adelaide, Australia, for the first three weeks of May. With time to wander the streets in the Fullarton/Unley area, there was not only opportunity to think of content for this edition, but also inspiration for much of it.
Being a bird nerd, the ever-vocal locals never disappoint: I settled on a couple of honeyeaters that were ever present for Birds I View, p8; about one in five fences in that particular neighbourhood are made of brushwood, so there's some info on that tradition in Did you know, p2; the granddaughter of cricket legend Donald Bradman, Greta Bradman, was in the news for headlining a music festival in outback Queensland – see Oz News, p4; a nearby community centre was hosting an exhibition of quilt art and two of the 29 pieces caught my eye as suitable for our NZ news, p5; and browsing books in op shops prompted some mentions also included here, p5.
Please note the new July 17 date for the return of the club's annual pool party. You can use the linked graphic below to add this and all its details to your Google Calendar, if you use that tool.
Please don't be shy about contributing any suitable material that others might find interesting. Thank you again to Jenny, Judy, Brian and Peter for valuable assistance. And thank you to our supportive advertisers.