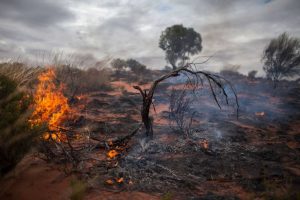 The devastating bushfires in Australia are continuing to take an almost unimaginable toll on that country. At least 27 people have died, livelihoods have been lost, countless native animals and livestock populations have been decimated, and millions of hectares of land have been burned beyond recognition.
To help those in need, the Down Under Club of Winnipeg (DUCW) is organising a large local Bud 'n Spud Fundraiser with monies raised sent to the Australian Red Cross through the Canadian Red Cross office in Winnipeg.
When — Saturday February 22, 2020, from 5:00 to 8:00 pm
Where — Nashville's Event Centre at Canad Inns Destination Centre Transcona (826 Regent Ave West)
Cost — $20 (tickets purchased in advance) for your choice of either a chicken or pasta/pizza dinner with baked potato, Caesar salad, garlic breadstick, and one complimentary beverage
Tickets — to purchase tickets or to make a donation, contact Peter Debenham at 204-955-0393
Silent Auction — if you would like to donate a prize for the auction, please contact Charlie Powell at 204-806-6965
For more information — Peter Munn at 204-237-1805 or Jenny Gates at info@downunderclub.mb.ca
In addition to the Silent Auction and 50/50 — tickets available on the night — there will be several speeches and presentations from members of the Australian and New Zealand community, as well as local individuals and dignitaries, and we will acknowledge those members of the Canadian Interagency Forest Fire Centre who have returned from Australia after helping with the fires.
On behalf of the members of the DUCW and the people of Australia, THANK YOU for joining us in helping those affected by these devastating bushfires, the impact of which will be felt long after the fires are extinguished.
Jenny Gates, Media and Communications — 204-228-9959
Peter Munn, President — 204-237-1805
Peter Debenham, CPA, CA, DUCW Treasurer — 204-955-0393
Charlie Powell, Silent Auction Coordinator — 204-806-6965
EMAIL — info@downunderclub.mb.ca