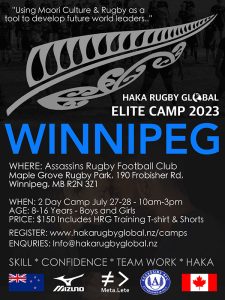 Haka Rugby is once again hosting its Elite 2-Day Camp right here in Winnipeg on Thursday July 27 and Friday July 28 from 10:00 am to 3:00 pm at Assassins Rugby Football Club, Maple Grove Rugby Park, 190 Frobisher Rd.
The goal is to use rugby and Māori culture as a tool to develop future world leaders.
To register, go to https://hakarugbyglobal.wildapricot.org/event-5257925/Registration or connect locally with Caleb Stick at https://www.facebook.com/caleb.stick
Feel free to share this with anyone you think might be interested in participating.