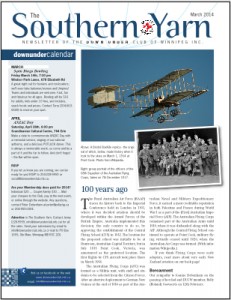 The 2014 issue of The Southern Yarn is now available for you to download.
Inside you will find some fascinating stories of early aviation history down under, an interview with The Ashworths as well Murray Burt's collection of Commonwealth news (anyone want to buy property in Kiribati?) and our regular sections.
Go to the Yarn page, or use this direct link to the PDF.
The online version contains a seventh page with some items we could not fit into the print edition.
Note that we are now adding the word [Link] into items which have links to online connections. Click on these in your PDF viewer and you should be redirected to our source or other items we thought might be interesting to you. We felt that these [Link] items are much smaller and easier than writing our the long, clumsy URL text which is too hard to transcribe anyway.
Enjoy!