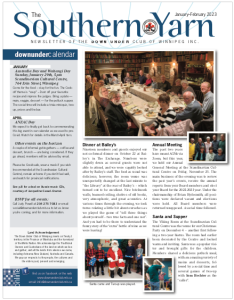 The first issue of The Southern Yarn is available now, online and in colour, and will be making its way through the post to those still having our postal version in glorious B&W on yellow paper.
Here's Charlie's editorial to get you started:
With this first edition for 2023 it is probably worth another reminder of the origins of the DUCW – namely, a bunch of Kiwi and Aussie servicemen wanting to socialize together after making it through WWII and choosing to make Winnipeg their home. This newsletter evolved later, and while sadly those founding vets have all passed on, we try to maintain a nod to their contribution by consistently including an article or something with a military theme – serious or otherwise. So, on p.6, in "Getting to know" there is a piece of history that was news to me until I read of it in the Australian Geographic. The focus is on the secret diamonds, but the bigger picture is the bombing of Broome, WA (I had only heard of the attack on Darwin). It is good to note that the AG journalist rightly acknowledged the critical role of the (Indigenous) Nyal Nyal man who first made contact with the survivors and raised the alarm – as opposed to the Mission Brother, who gets the credit in other accounts.
There are other contributions by my usual collaborators — Jenny, Peter and Judy — and I am particularly grateful this month to Jude McCudden (observations of changes downunder, p.2) and Ed Powell (guest Birds I View observer/writer, p.8). Hopefully they will inspire more of you readers to send in news or links to stories of interest to others. Special thanks, as always, to our advertisers, and Brian Hydesmith who assembles this into its presentable format.
ADVERTISE WITH THE DUCW
Want to promote yourself or your business to others in the Club and beyond? Starting a new business and want to get the word out? Looking to let other members know about an Australian or New Zealand opportunity worth considering? We offer very affordable rates on our three packages that include an ad in our newsletter, on our website and on our Facebook page, as well as other opportunities as we find them:
Partner – $300 a year
Sponsor – $200 a year
Supporter – $100 a year
Invoices are issued in January, and specific ad sizes are associated with each level.
For more information, phone Jenny at 204-228-9959 or email info@downunderclub.mb.ca.