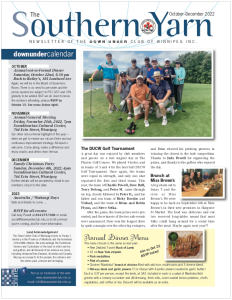 The Southern Yarn is available for you to download.
You can click on the image to the right or you can check out the Yarns page here: The Southern Yarn.
Here's Charlie's editorial to get you started:
It's a beautiful Manitoba autumn – leaves changing to all shades of green, yellow and red; geese honking overhead; harvests in and gardens put to bed; returning songbirds singing to be fed. It has been fun enjoying in-person club events once again – the pool party, golf tournament, brunch – and more to come, as per the calendar.
This issue of the Yarn features a brief recap of Queen Elizabeth's visits to New Zealand and Australia as a very new monarch. I encourage you to watch the Youtube recording of the entertainment organized for the Royal couple at Wayville in Adelaide in 1954.
One of my favourite Aussie birds, the spangled drongo, is featured on p.8. Jenny has lined up some small-screen viewing selections (p.3) and there's lots more for your reading pleasure. Take note of the advertisements and support our sponsors when you can.
Thanks also to Peter, Chris, Jenny, Dennis and Brian.