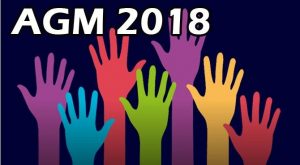 "Welcome!" is exactly what we will say when you join us on November 30 at 7:00 pm for our annual general meeting.
It will be held at the Scandinavian Cultural Centre, 764 Erin St, and we are hoping for a good turnout of members.
The AGM is a fantastic opportunity to:
hear all about our events in the past year,
find out what's ahead next year,
offer suggestions for Club activities,
put your name forward for the new executive,
vote in the new executive,
catch up with fellow members,
participate in some lively conversation, and
enjoy snacks and drinks from the bar.
But the most important reason to attend the AGM is to meet those on the executive who have worked tirelessly to make this Club what it is.  They put in many hours to organise events, put together and design and mail out the newsletter, manage dues paid and balance the budget, keep track of members, and do whatever else is necessary to ensure the DUCW remains a vibrant and welcoming organisation for all of us.
So make a point to drop in. Even if you don't want to be on the executive, this is your opportunity to support those who do and to be part of our future.