Known as a cellist and whale whisperer,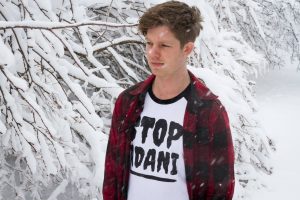 Aussie muso Rob Knaggs is heading back to Oz after several years in Churchill. But before he leaves, he's doing one last performance at The Handsome Daughter on Sherbrook on December 8. If you are looking for some fine music with a downunder flavour, here is more information about Rob and the upcoming performance.
After four years of calling Manitoba home, whale-whispering cellist Rob Knaggs is heading back to Australia for the indefinite future. Before his departure, Rob Knaggs is teaming up with Stonewall folk darlings, Two Crows for Comfort, for a double headline show on December 8th at the Handsome Daughter in West Broadway.
"Since I got back from Churchill, Erin, Cory (of Two Crows…) and I have been chatting about doing a show together and it just so happened we both have a new release to celebrate. As it's my last show in Canada, we're treating this show like a party and everyone's invited! Expect balloons!"
Recorded in Winnipeg's West End at Collector Studio and mastered by Birgir Jon Birgisson of Sigur Ros' home studio Sundlaugin, the new EP titled Foreshore is a continuation of Rob's cello driven compositions that are equal parts cinematic soundtrack and enchanting post rock. Influenced by the ethereality of Bjork and the epic orchestrations of Arcade Fire, Knaggs runs his cello through an array of effects and a loop station to compose his works that have sent shivers down the spines of audiences across Australia and North America.
Filled with rich harmonies, genuine, heart-warming (and breaking) lyrics, folk-roots duo Two Crows for Comfort spins stories into songs and songs into stories. Though debuting in early 2017, the Two Crows are no strangers to the stage. Having played in several popular Winnipeg groups, Erin Corbin and Cory Sulyma – often joined on stage by local, notable musicians Ben Mak-Wiebe and Lachlan McLean – finally joined forces to begin a journey of their own. After a soft release in the summer, Two Crows are excited to officially celebrate their debut full- length record, 17 Feet.
Rob Knaggs and Two Crows for Comfort are performing two shows at the Handsome Daughter, 61 Sherbrook Street, on December 8th, first performance is SOLD OUT, but can still catch the later show at 10pm.
Tickets are $15 and will be available from Rob's website and Two Crows' website or visit the event page on Facebook.