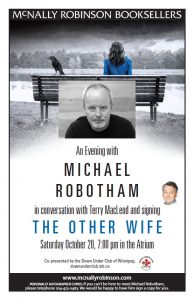 You are invited to an Aussie author book event on Saturday October 20 at 7:00 pm at McNally Robinson (Grant Park).
One of the world's most acclaimed authors of thriller fiction, Aussie Michael Robotham will be in conversation with Terry MacLeod, after which he will sign his latest book "The Other Wife" (Little, Brown and Company).
Childhood sweethearts William and Mary have been married for 60 years. William is a celebrated surgeon, Mary a devoted wife. Both have a strong sense of right and wrong.
This is what their son, Joe O'Loughlin, has always believed. But when Joe is summoned to the hospital with news that his father has been brutally attacked, his world is turned upside down. Who is the strange woman crying at William's bedside, covered in his blood – a friend, a mistress, a fantasist or a killer?
Against the advice of the police, Joe launches his own investigation. As he learns more, he discovers sides to his father he never knew – and is forcibly reminded that the truth comes at a price.
This event is being co-presented by the DUCW, and we would love to have a big turnout of members and friends to welcome Michael and hear about his work. You might even see a familiar face introducing Terry before he introduces Michael. How exciting!
Michael has been an investigative journalist in Britain, Australia and the US. His series of psychological thrillers featuring psychologist Joe O'Loughlin have sold millions of copies around the globe. Robotham lives in Sydney with his wife and three daughters.
Host Terry MacLeod is an independent Emmy-nominated journalist, Queen's Diamond Jubilee Medal Recipient, and former CBC Radio and TV host, presenter and producer.
For more information about the event, check out the write-up on the McNally Robinson website.