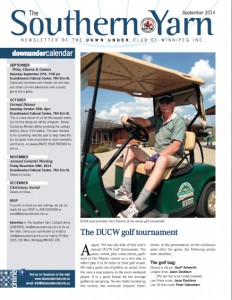 Yes, friends, we're back! After a hiatus lasting the bulk of the summer. we have published our first issue of The Southern Yarn since our June issue. Luckily we had regular updates on the website by Jenny Gates during the Canadian summer.
So, go ahead and download your own copy of the PDF version of the Yarn, complete with hyperlinks and in full colour. For those of you relying on Canada Post, await the arrival of the cheery yellow six pager to sit on your coffee table.
Remember to note all the upcoming events in your own calendar, especially the games night on September 27th, complete with wine and cheese. Then the formal dinner on October 25th. This time it will be catered, just for us, on our terms, in our space!