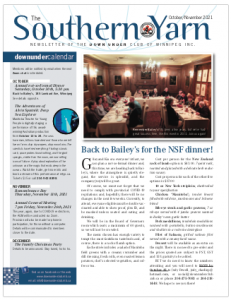 The October-November issue of the Southern Yarn is available for your reading online, download, printout, or you can wait for your copy in the mail, if you still get it in glorious black-and-white on our signature yellow paper stock.
Noteworthy on your social calendar is the return of our 'Not-so-formal' dinner. Here are the details, from page one of this issue.
G'day and Kia ora everyone! At last, we can plan a not-so-formal dinner and, this time, we are heading back to Bailey's, where the atmosphere is quietly elegant, the service is splendid, and the company (us) will be great.
Of course, we must not forget that we need to comply with provincial COVID-19 regulations and, hopefully, there will be no changes in the next few weeks. Currently, to attend, everyone eligible must be double vaccinated and able to show proof, plus ID, and be masked unless seated and eating and drinking. We will be in the Board of Governors room which seats a maximum of 40 guests, so we will not be crowded.
The menu chosen has enough variety to tempt the most fastidious tastebuds and, of course, there is a rack of lamb option. Each entrée includes a salad of Manitoba field greens with a creamy cucumber and dill dressing, fresh rolls, oven roasted lemon potatoes, chef's selected vegetables, and coffee or tea.
Cost per person for the New Zealand rack of lamb option is $43.00. 7-point rack, roasted and glazed with a delicate herb reduction sauce).
Cost per person for each of the other five options is $37.00
10 oz New York striploin; charbroiled to your specification
Chicken "Manitoba"; tender breast filled with wild rice, mushrooms and 3-cheese blend
Rib-eye steak and garlic prawns; 7 oz rib-eye served with 4 jumbo prawns sauteed in Bailey's own garlic butter
Pork medallions; tenderloin medallions sauteed with portabello, button mushrooms and shallots in a red wine demi-glace
Filet of Salmon; grilled salmon filet served with a creamy basil sauce.
Dessert will be available as an extra on the night. There is no need to pre-order and the prices quoted are subject to PST, GST and 15% gratuity to be added. BUT we do need to know the numbers attending and you will need to RSVP by October 25 to Judy Powell,
judy_charliep@ hotmail.com, or social@downunderclub .mb.ca
or phone 204-275-7083 or 204-218-1448.
We hope to see you there!