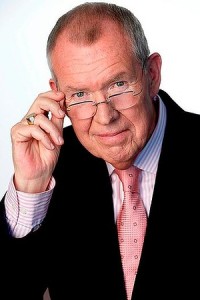 Veteran TV reporter Peter Harvey has died, aged 68
The death of Channel Nine news veteran Peter Harvey from pancreatic cancer prompted an immediate outpouring of grief and tributes by colleagues and rivals.
The newsman with the rich baritone voice was diagnosed with pancreatic cancer in October last year and died today with his family by his side.
In timing that would have appealed to his journalistic sense, the news broke just in time for the 6pm TV bulletins.
Harvey was best known for his 37-year career with the Nine Network and enjoyed cult status for his sign-off with the famous pause: ''Peter Harvey … Canberra''.
Ray Martin lamented the loss of a great character. ''Journalism, like politics and life, is full of bland, colourless people,'' he said. ''He is full of colour.''
In a note to staff, Nine's CEO David Gyngell wrote: ''This is the saddest of days for the Nine Network. Peter Harvey – Harves as he is known to everyone – is and will remain an indelible part of Nine. Like Tony Greig who we also lost so sadly recently, Peter was a huge chunk of the DNA of this place.''
Gyngell paid tribute to Harvey's unfailing work ethic and humility: ''It was the mark of the man that Peter insisted on coming to work and fronting the cameras right to the end – always grateful for ours and the literally thousands of well wishes from the public, but actually embarrassed about being the centre of so much 'fuss'. As usual thinking little of himself and much more of others, principally his beloved family.''
Read more: http://www.smh.com.au/entertainment/tv-and-radio/veteran-tv-reporter-peter-harvey-has-died-aged-68-20130302-2fd58.html#ixzz2MctUA0ty
[March 2, 2013, Elder John]