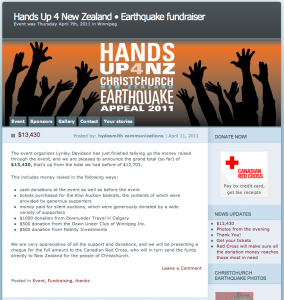 It is hard to believe it was more than two years ago that Christchurch New Zealand experienced a devastating earthquake.
February 22, 2011 will be remembered by the world, especially by those who experienced the event.
The Down Under Club of Winnipeg pulled together a benefit event on April 7th, 2011, headed up by Lynley Davidson.
The web site was created and will live on at http://handsup4nz.wordpress.com after the expiry of the dedicated original web address.