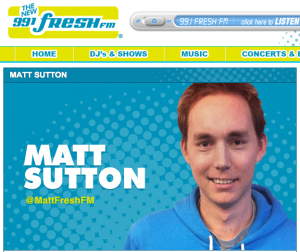 G'day and welcome to Matt Sutton, the new morning radio show host at 99.1 Fresh FM. Hot off the plane from Brisbane, Australia, Matt is a "fan of good times and making people eat Vegemite sandwiches".
Sutton is no stranger to Canada, having also worked in London, Ontario, and is apparently addicted to Tim Hortons, loves hockey and doesn't complain about the cold. You'll find a few like minds here, Matt!
Tune in to 99.1 FM at 5:30 am weekday mornings to hear Matt in action, and hopefully we'll get a chance to meet him at an upcoming DUCW event. Beauty, mate!