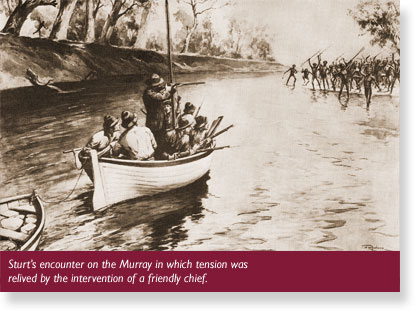 Some years back I bought a book edited by Tim Flannery, titled "The Explorers", from an ABC store in Australia. It's an anthology documenting almost four centuries of exploration and includes the work of Eyre, Giles, Hume and Hovell, Leichhardt, Mitchell, Stuart, Sturt, Wills, and many others. One episode, involving Charles Sturt, has stayed with me.
The picture above shows Sturt and his party in a desperate situation. But look closely up on the left bank: there is a native running hard and about to dive into the river. He is a "chief" who Sturt had encountered earlier and made peace with. This man had subsequently realized the danger from the next tribe further along the river and took action. His courage and timing were perfect and enabled Sturt to maintain his reputation for not killing any aboriginals. This other reference takes up the story:
The day of 23 January, 1830 takes us to the dramatic and dangerous happenings of the Murray-Darling junction. The sail had been hoisted for the first time, and the boat was speeding when, without warning, the men saw the river shoaling fast. A huge sandbank, projecting nearly a third of the way across the channel was crowded with hostile Aboriginals. The boat ran aground. The crew were sitting shots; an engagement looked certain. "The men were given guns but instructed not to fire until I had discharged both my barrels."
An intervening chief to which Sturt had previously held out a peace offering, swam across the stream. He was a man of authority, and he persuaded them to lower their spears. Watchful, but cool and entirely fearless, Sturt kept control of the situation. The peacemaker received a gift; guns were put away and the boat pushed off the sandbank…
"Then it was just as she floated again that our attention was withdrawn to a new and beautiful stream coming from the north." It was the Darling. The explorers proceeded upstream followed on both banks by Aboriginals, curious and chattering volubly, still armed but not so ill-disposed. Macleay threw them a tin kettle as a further peace-offering.
[Read more link] Charlie Powell