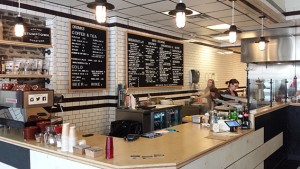 If you would like to celebrate Australia Day with a distinctly Aussie flavour, then consider dropping into Miss Browns Hot Pressed Sandwich & Coffee Co. in Winnipeg between 7:30 am and 3:00 pm on Tuesday January 26. Perhaps a coffee before work, a mid-morning break, lunch, or just to say hi.
Located at 288 William St downtown (south-east of Red River College, and south-west of City Hall), owners Jenn (Cdn) and Steve (Aus) are planning additional Australian options to complement their already amazing menu for anyone who wants to drop in and say g'day.
Famous for their breakfast, Stumptown coffee, house-smoked meats, and fresh cooked local foods, it's one of few places in town that actually know what you want when you ask for a long black or a flat white.
Be sure to tell them you are a member – or friend – of the DUCW so they know we are spreading the word about them and their Aussie-inspired business thriving here in Winnipeg.
By the way, we will be organising a Sunday Brunch there in the near future, so stay tuned for that.
Cheers! And happy Australia Day!