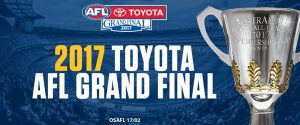 Crows or Tigers? Who will win the AFL GF?
Join us on Friday September 29 from 9:30 pm at Boston Pizza on Henderson Highway in Winnipeg.
Members of the DUCW will join AFL fans and players to watch the greatest game on the AFL calendar.
We will likely go until around 2:00 am on Saturday morning, so catch up on your sleep now because it's going to be a fantastic event not to be missed!