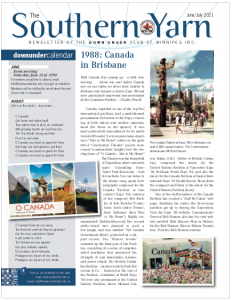 The full summer Yarn is in the mail, and posted to our website. Read it in PDF format now, by clicking on the image of the first page here.
Our Yarns page features all the back issues, in case you missed some, or want to catch up.
There is a Zoom event this Saturday, so send an email if you want to get an invite.
Here's Charlie's editorial, to get you started.
When I Googled "Australian Bush Yarns", there was no end of book titles, including the one I have been using (p.4). I always strive for balance in the articles in this publication, so I Googled "NZ Bush Yarns", and do you know what I came up with? Endless links to knitting skein suppliers! "NZ tall tales" got me closer to what I was searching for, however I have decided to leave it to our Kiwi readers to submit their favourite examples of local humour.
Since many are still being affected by the COVID-19 pandemic, I thought it timely to consider a hero in the fight against another unpleasant virus. Polio epidemics peaked most recently around 1950. But since the '30s Sister Kenny was working to ease the suffering of victims. Read her story in "Getting to know…", p.6. Have you heard the expressions 'happy as a lark', 'be up with the lark(s)', and 'blow that for a lark'? Well, Birds I view this month is the meadowlark – always refreshing to hear their happy song, p.8.
Thank you again to our faithful advertisers, literary contributors (Peter, Jenny, Judy) and you literate readers!
Enjoy! And Happy Canada Day!