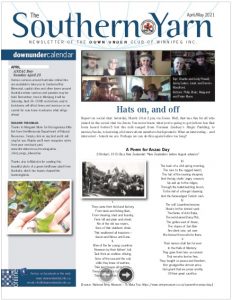 The April=May issue of The Southern Yarn is available now read it online now, or await your version on glorious yellow bond paper through the post, if you prefer.
Here is the Editorial, by Charlie Powell, just to get you started:
It seems like the "dry" has started here in Manitoba – so little snow during winter that there is no spring runoff! The rural community is worried, therefore we all should be. "The Dry" also makes the list of top 25 Aussie films at the box office. Of course, we all know which one is still way out ahead of the rest … see NewsfromOz, p.5. You'll also learn who owns some of the iconic brands downunder. Speaking of which – I recently gratefully accepted an unfinished jar of Vegemite with a Best Before in 2016! Still good, and still Yum!! As we commemorate ANZAC Day again this year, whether at the usual outdoor service or virtually, pay attention to the Padre. Just as chaplains play an important role in our annual services of remembrance, they played an even more vital role in the trenches. One such example is featured in this month's Getting to know, p.6. And, speaking of the clergy, the Bird I view this issue is the Cardinal, p.8. All this and so much more – thank you to our advertisers and contributors – Judy, Jenny, Peter, Margaret, Ed, Malcolm, Terry.
You can check out all the past issues of our Yarns page.