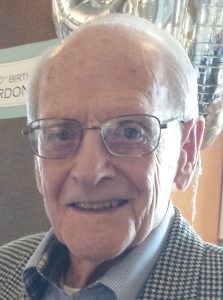 It is with a heavy heart that we say farewell to our dear friend and best mate Gordon Keatch who, at age 95, passed away on June 25, 2019, after a fall at home. Gord was recovering in emergency for a few days and settling into an assisted living facility before he died.
Gord is survived by his sons, Ron (Janice) and Don (Sheila), grandchildren, Allison (Klaas), Erin (Patrick) and Michael (Gemma), and great-grandchildren, Ethan, Liam, Iris, Olivia and Mia. He was predeceased by his infant grandson Graham in 1977 and his wife Anne in 2007.
Born in Melbourne, Australia, Gord joined the Australian Air Force at age 18 and came to Winnipeg to train as a wireless operator. He met Anne during that time and they were married in Australia after the war ended. In 1949 they returned to Winnipeg where Gord started his business career.
He became Secretary Treasurer of Kipp Kelly Limited and enjoyed many years with this successful Winnipeg-based manufacturer and distributor, retiring in 1983. During that time, he served two terms as Trustee of the St. James School Division, followed by a term as Councillor for the City of St. James. He was a founder of the Down Under Club in 1950, greatly enjoyed his association, and was the last of the original members.
Gord was an avid golfer and had a long association with Niakwa Country Club, including serving as President. He and Anne enjoyed many winters travelling, particularly to Hawaii. Gordon had a special affinity for the theatre. He was President of MTC and a long-time supporter right up to the time of his passing.
Gordie was a Sinatra fan. As Ol' Blues Eyes said, "I did it my way."
In lieu of a funeral service, there will be a memorial reception for Gord on Thursday, August 8, 2019, from 10:00 a.m. to 12:00 noon at the Winnipeg Squash Racquet Club, 275 Stradbrook Ave.
Flowers are gratefully declined, but if you would like, a donation to the Manitoba Theatre Centre, 174 Market Ave., Winnipeg, MB R3B 0P8, would be very much appreciated.
Thank you, Gord, for your friendship, your unique sense of humour and wit, your kind and welcoming nature, your commitment to the DUCW, and your generous spirit that bound us all together. We love you and we miss you. Rest easy, mate.