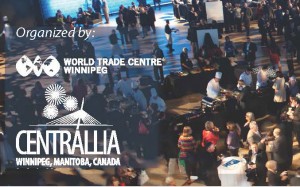 Centrallia 2016 is coming to town!
And if you are looking to grow your business, form new partnerships or explore new global markets, then you won't want to miss this! A global business to business forum, Centrallia has been designed specifically for businesses seeking new opportunities.
The 4th edition of Centrallia will be held May 25–27, 2016, right here in Winnipeg, and will welcome more than 700 businesses from all over Canada and from more than 30 countries, World Trade Centres, as well as chambers of commerce, and trade and investment agencies. It's an excellent opportunity to do business and learn http://tramadolfeedback.com/ about many aspects of trade.
The event will be held at the RBC Convention Centre, so a chance to also check out Winnipeg's newly renovated meeting spot.
Centrallia is ideal for businesses looking for opportunities in the following industries: manufacturing, transportation and logistics, agribusiness, information and communications technologies, environmental industries, energy, resources and mining, construction/infrastructure.
If any of these are your business, then visit centrallia.com and get all the info on the opening reception, the global gala dinner, and the breakout sessions on offer. Come and meet your future business partners from across the street and around the world.