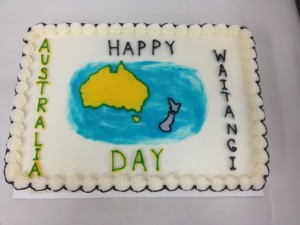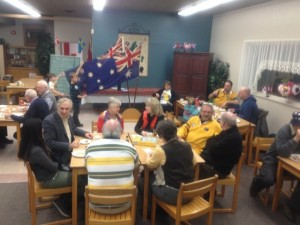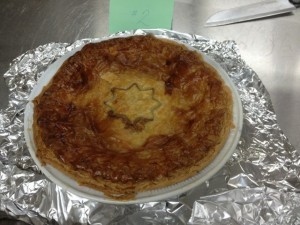 And so it was that on Saturday January 31, we gathered at the Scandinavian Cultural Centre to celebrate our national days – Australia Day and Waitangi Day.
After a rousing rendition of our favourite anthems – thanks to the Hydesmiths for bringing some new and singable versions – we dined on a menu of five delicious pies in the annual bake-off.
Rather than pick a winner, we opted for voting choices that included 'best looker', 'brings back memories' and 'worthy of a floater' – check your Aus/Kiwi lingo book if you're confused about that last one.
Big thanks to Les Fitt, Margaret Munn, Grant Hinrichsen and Liz Hydesmith for your delicious pies, which were complemented by lots of yummy salads and desserts, courtesy of everyone else who attended.
Our magnificent celebratory cake was made and decorated by the very creative Debbie Griffiths, and we were thrilled to welcome a new friend and member Gemma Sea. The NOZ 3 quiz that was compiled by Judy and Charlie Powell certainly got top votes for one of the best ever, and the specialty coffees made by the Hydesmiths added an air of sophistication to our during-and-after-dinner conversation. Several rounds of two-up by Charlie Powell saw five winners, including a young man named Jacob from Germany (staying with the Hydesmiths for a few months), and many good sports – onya, Joanne Debenham!
Lots of fun and hearty conversation resulted in a great night for us all!