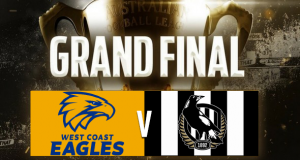 Join us this Friday September 28 for the 4th Annual AFL Grand Final Night in Winnipeg.
Members and friends of the Winnipeg Bears Australian Football Club and the DUCW will be at Boston Pizza, 1475 Henderson Hwy, from 9:30 pm onward.
The Aussie Rules football grand final is the biggest event on the Australian sporting calendar, and will be broadcast live from Melbourne. This year it's the Collingwood Magpies versus the West Coast Eagles. The large projector screen will be going, with all the pre-game live music and, of course, a rousing rendition of the Australian national anthem. Can we top last year's effort?!?! Yes, we can!
No need to RSVP. Just turn up and be part of the event. Family and friends welcome.
More details at the WBAFC's Facebook page.