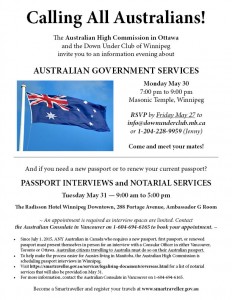 Need to apply for or renew your Australian passport?
Want to attend an information evening about "Australian Government Services"?
Want to catch up with other Aussies from Winnipeg and Manitoba?
Then this is your opportunity, so don't delay. Book an appointment for Tuesday May 31 (1-604-694-6165), and RSVP (info@downunderclub.mb.ca) to attend a meet and greet with other Aussies and representatives from the Australian High Commission on Monday May 30.
All details on the attached photo, or at http://www.communitynewscommons.org/culture/calling-all-australians/
And spread the word to your Aussie mates so more people can take advantage of when the Australian High Commission comes to town.
For additional information, contact Jenny at info@downunderclub.mb.ca or 204-228-9959.