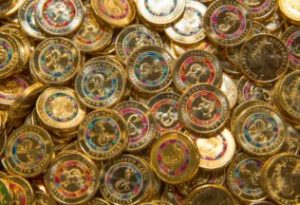 Woolworths is co-launching a limited-edition of colourful $2 coins featuring characters from the iconic Australian children's book, Possum Magic.
The coins are minted by The Royal Australian Mint but will be released to the public through Woolworths tills and feature Possum Magic's main character, Hush, along with a colourful "magical dust" rings.
A limited-edition Possum Magic Coin Collection album will also be sold through Woolworths and the Royal Australian Mint. The coins are designed to mark the Children's Book Council of Australia Children's Book Week.
"We hope the release of the coin collection provides more opportunities for grandparents, parents and children alike to engage with this iconic story and perhaps even try recreating the famous dishes contained in the book," said Woolworths Program Manager, Sarah De La Mare.
The first $2 design in the coin series has already been released into Woolworths registers. The second design will be released 22 August 2017 and the final design 29 August 2017. The coin collection album can be purchased for AUD $15 from Woolworths supermarkets and the Royal Australian Mint.
Thanks to Charlie Powell for bringing this to our attention.