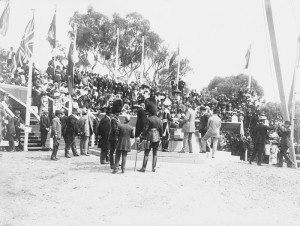 12th March, 1913: The foundation stone for Canberra was laid by His Excellency The Right Honourable Sir Thomas Denman.
Visit this link for more details on the photo.
And check out this great little clip:
http://aso.gov.au/titles/historical/naming-federal-capital/clip1/
This clip shows the governor-general Lord Thomas Denman arriving at the naming ceremony of Canberra. A royal salute is fired before Lord Denman lays a foundation stone. Lord Denman was the fifth governor-general of Australia and was in office from 1911 to 1914.