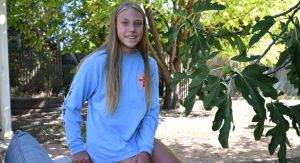 This just in …
"Orange athlete Kaitlyn Hinrichsen has won 12 gold medals across two sports in two weekends. The 13-year old Orange High School student won nine gold medals at the Mountains and Plains Summer Swimming Championships at Grenfell earlier this month. It followed her winning three gold medals and a bronze at the regional Little Athletics championships in Dubbo.
"Her father Grant said Kaitlyn won her swimming gold medals in all strokes [freestyle, backstroke, breaststroke and butterfly] in both the 50 metre and 100 metre events and also won gold in the 200 metre individual medley. At the athletics she dominated the distance events. He said she won gold in the 800, 1500 and 3000 metre events and took bronze in the 400 metre final.
"Kaitlyn's next event is the NSW Country Swimming Championships in Sydney this weekend. He said she would be contesting seven individual events. Her next stop in athletics is the Little Athletics State Championships in late March."
The Hinrichsens moved to Orange (NSW) in January 2017, and by all accounts the entire family is thriving.
Read more of Kaitlyn's story here, but like, wow. How proud are we!